Creating compassionate communities, one breath at a time.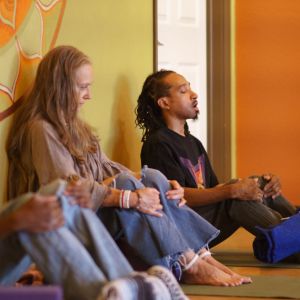 Guided By Humanity is a non-profit organization that offers accessible, inclusive, and compassionate mindfulness programming to Colorado residents that traditionally lack access to health and wellness resources. We are dedicated to providing health and wellness opportunities to all underserved communities that are accessible to everyone, regardless of ability or background.
Elizabeth Braun M.S.

Director, Active Community Access

I have been taking clients of varying physical and mental abilities to Mary's Yoga classes for over a year and the response has been fantastic. They love it and I have seen an increase in flexibility in several without any strain or pain. The clients also like how calm and good they feel when they leave. This is truly inclusive, gentle yoga anyone can participate in. I highly recommend it to all.

Joshua Wann

Program Manager, North Metro Community Services

The instructor does great structuring the class to benefit individuals with a wide range of physical abilities. This class helps individuals to improve physical resilience and achieve something that they didn't know they were capable of doing. Additionally, We work with a lot of people on the autism spectrum. The atmosphere has been very calming for them. Many people that we support are in constant motion and needed to satisfy an internal stimuli. It is surreal when they have achieved a calmness and stillness during the yoga class. After the class they have a positive remainder of the day, return to our site, and tell me what a great day they had.

William Peters

Community Employment and Day Program Assistant Manager, Goodwill Industries

Mary has been providing her yoga classes for the ID/DD participants in my program for at least a year now and we have seen amazing results. Several of our participants who regularly have struggled with high anxiety, begin to relax and exhibit less nervous behaviors. Again, several of our participants who experience physical pain and flexibility issues have benefited from the adaptable exercises and poses that Mary uses each week. I think the greatest result of all is to see how excited our participants are for Yoga day and the relationship they have with Mary. Keep up the great work because it does make a difference!

Judy Pankoff

Activity Specialist, Shalom Denver

Mary and Kristi ave been absolutely fabulous! Everyone feels safe in their yoga practice, physically and mentally. Mary is very inviting and keeps all of us engaged throughout the session. She has a unique tact for adapting any pose for all abilities. Everyone looks forward to Yoga with Guided By Humanity on Tuesday afternoons.

Chester

All Abilities Yoga Student

I'm doing good since doing yoga.

Wayne

All Abilities Yoga Student

Yoga makes me feel GREAT!